Everyone loves rice and it is great when you are hungry and want thousands of something !
Fried Rice !
Siapa sih yang gak tau makanan ini? Olahan nasi yang sederhana yang bias dikombinasikan dengan banyak pilihan lauk atau campuran sayur, disantap bersama kerupuk, acar atau makanan lainnya.
Berbicara tentang nasi goreng, ini dia salah satu depot Nasi Goreng yang ternama di Bali. Nasi Goreng Hoki. Beralamatkan di Jalan Pulau Kawe No. 14, Pedungan, Denpasar Barat, Bali. Restaurant dengan menu andalan nasi goring dengan inovasi pengolahan dan cita rasa yang nikmat.
Nasi Goreng Cumi Hitam adalan salah satu menu ikonik di Nasi Goreng Hoki. Nasi yang digoreng dan dibumbui rempah serta dikombinasikan dengan cumi hitam memberikan rasa yang khas dan sangat special, terlebih lagi bagi para pecinta seafood.
Nasi Goreng Jawa, dengan topping suwiran ayam, sayur yang dipotong kecil dan rasa yang gurih akan membuat anda menghabiskan seluruh porsinya. Pengunjung dapat memilih porsi biasa atau jumbo. Untuk posri biasa, nasi goring dibanderol dengan harga mulai dari 14k – 30k, sedangkan untuk porsi jumbo, mulai dari 24k – 36k.
Selain nasi goring, mereka juga menyediakan menu lain seperti Bihun, dan Kwetiau. Tersedia juga Nasi Udang Telur Siramm 28k, Nasi Ayam Siram 24k, dan banyak lagi menu makanan yang tentunya tidak kalah sedap.
Nasi Goreng Hoki beroperasi setiap hari kecuali pada tanggal 8 dan22 setiap bulan, selain tanggal tersebut dan hari libur nasional mereka buka pukul 11.00 sampai dengan 23.00.
Come and enjoy your order at Nasi Goreng Hoki !
Daftar menu: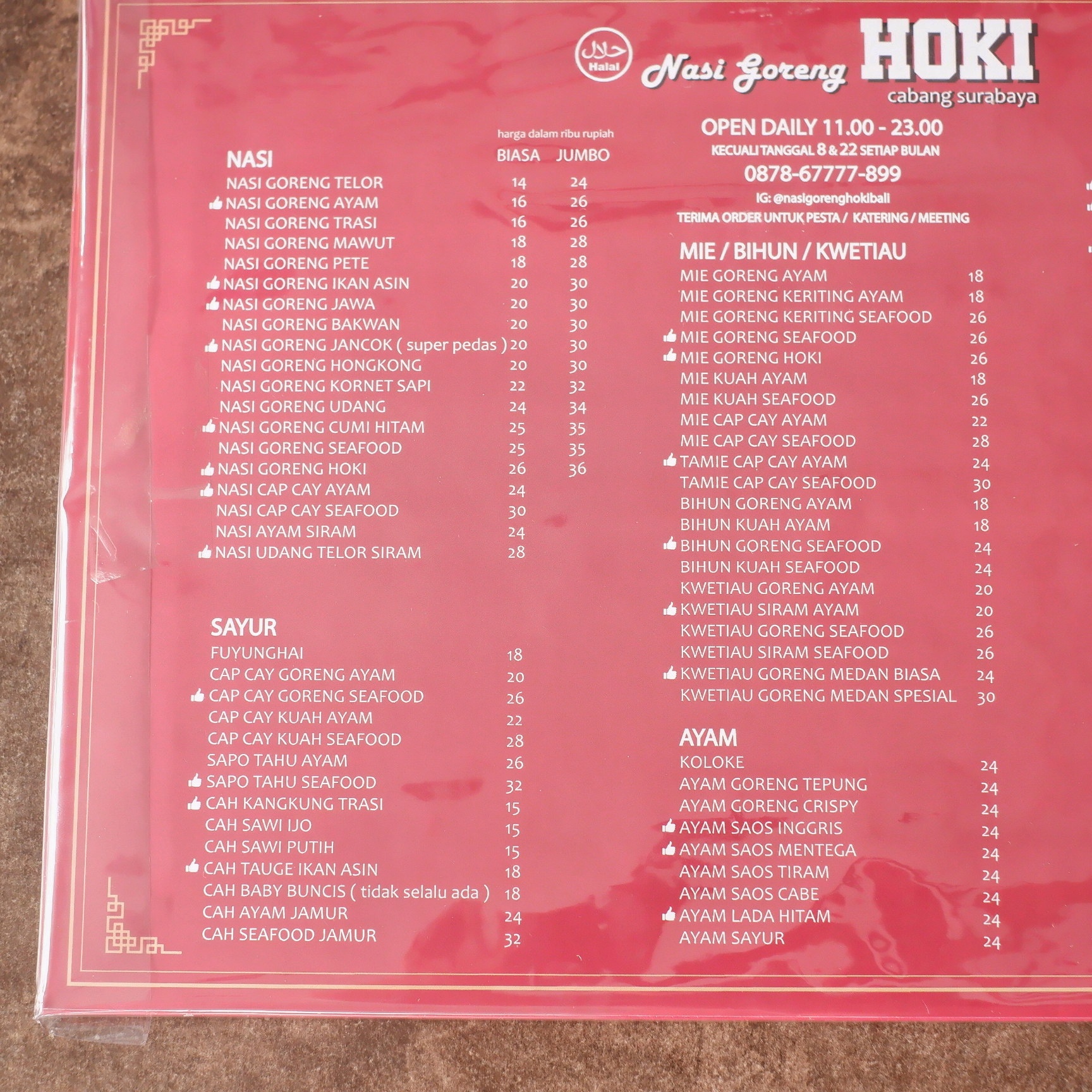 ---